Computing Skills Impress Techathon at Norwich Science Festival
Back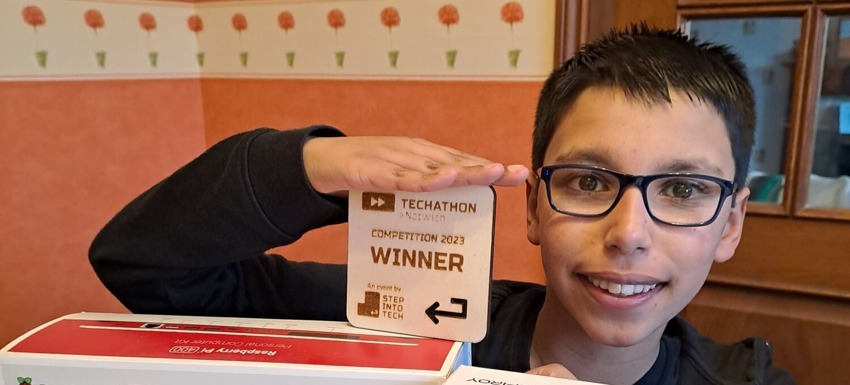 February 24th 2023
During half-term week Norwich Science Festival took place centring around The Forum with many of our pupils taking advantage of the opportunity to get involved with science in our community. Part of the festival was a Techathon hosted by StepIntoTech where some of our students got involved using their computing skills. Pupils were tasked with developing creative solutions to a range of social issues that were set by the sponsors.
Two of our Year 7 students, Theo Thompson and Anshul Verma, were part of the winning team for the "Idea" award for their Eco House, sponsored by Aviva.
Explaining their Eco House design, Anshul said:

"We created an eco house that was run off different types of renewable energies including rainwater, geothermal heating and wind power."
When asked about his experience of the Techathon, Theo said:

"I was nervous at first but then I really enjoyed it, it was a good way to learn how coding can be used in the real world and through the social themes set for the challenges I understood more about what type of jobs exist."
Mrs Banks, Head of Computing was fortunate to be able to attend the showcase on the Friday afternoon where she received glowing feedback about our Jane Austen College pupils from their mentors.
Mrs Banks said:

"It is wonderful to hear how amazing our Jane Austen College pupils have been whilst working hard at the Techathon. Our pupils were commended for their teamwork and creative thinking skills harnessed in their solutions. All of our pupils have come up with brilliant ideas, impressing mentors at the event and ourselves at Jane Austen College."
On hearing the wonderful news, Ms Turner said:

"I am thrilled with Theo and Anshul's achievement, and also proud of all our students' contributions at the Techathon"