Jane Austen College celebrates stand-out A-Level Results
Back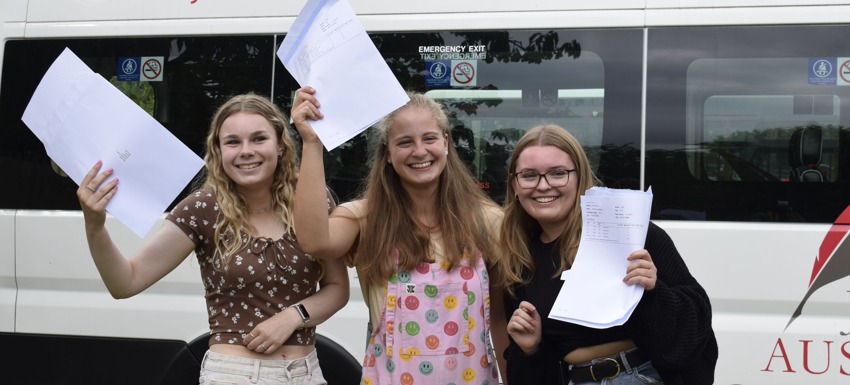 August 18th 2022
Jane Austen College Sixth Form, situated in the heart of Norwich, has been celebrating its magnificent A-Level results today with 41% of grades A-Level A*-A grades.
Focusing on academic excellence, the school, which has recently had a stand-out visit from Ofsted who stated the school would be rated as 'Outstanding' if they were to carry out a full inspection now is part of the Inspiration Trust family of schools and has seen an outstanding 95% A*-C grades!
While 100% A*-C grades were achieved in Sociology, Politics, English Language, French, German and Art and Design. Following such fantastic results, Jane Austen College is delighted to see a number of its students moving on to University of Cambridge to further their studies.
Summer Turner, Principal at Jane Austen College, said:
"Our students have gone above and beyond over the last two years to achieve an extraordinary set of results. This is a culmination of a huge amount of work in some of the most challenging of circumstances, and I want to congratulate all students and staff on their unwavering commitment. Students have shown great determination in their learning and have truly risen to the challenge… I am very proud of what our year 13 students have achieved, and wish them the very best in their next steps."
Melissa, Year 13 Student at Jane Austen College, said:
"I'm so excited to continue my journey at Jane Austen as a reading mentor next year, helping those students in the younger school that are 3 years below their reading level. It's such a fantastic opportunity, and I can't wait to start!"
Jane Austen College works in partnership with Sir Isaac Newton Sixth Form, who has also seen exceptional A-Level results today, to provide its students with the highest-quality A-Level courses in STEM subjects. Students at both colleges benefit from the best teaching and academic support, with opportunities to get involved in a vast array of electives to build life-long skills.
Harvey, Year 13 Student at Jane Austen College, said:
"Studying at both Jane Austen and Sir Isaac Newton has been an amazing opportunity to meet other people and be part of a great collaborative community."