The BBC Visits JAC with Tom Grennan!
Back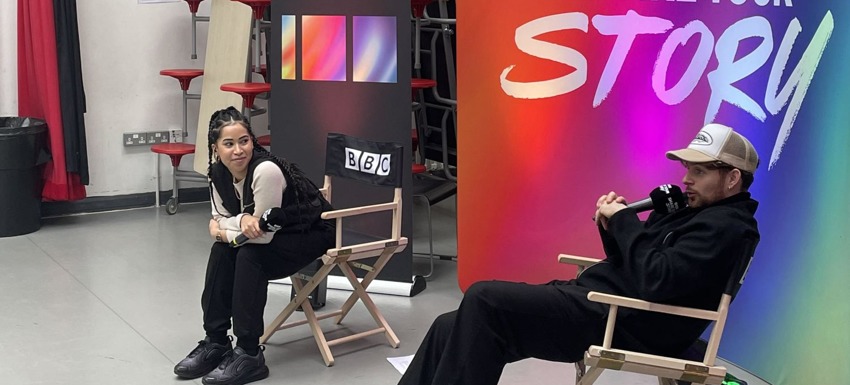 March 10th 2022
Jane Austen College (JAC) had a very special guest on Wednesday 9th March, as part of the BBC's centenary celebrations. The BBC100 Share Your Story tour is visiting around 500 schools across the UK, throughout this year. However, only a lucky 100 schools will have a celebrity guest as part of the visit.
The celebrity guest for JAC, much to the delight of the students (and staff!) was 2022 BRIT Nominee Tom Grennan!
Hosted by Swarzy Macaly from BBC Radio 1 Xtra, there were three interactive assembly-style sessions; one with year 7, one with year 8 and a final session with year 10. Each session was similar to an interview, with Swarzy prompting Tom to answer questions about his music career, what he has had to overcome and how he got to where he is today. It also highlighted to the students that no matter your background, you can achieve anything.
The students really enjoyed hearing Tom's story; how he got into music, overcoming mental health struggles and why it's an important topic to discuss. In addition to this, Tom spoke about how he started playing semi-professional football, before going into acting and then realising music was what he wanted to do. This was the perfect opportunity to show students that it is ok if you don't know what you want to do yet, or if you change the path you are currently on.
During the sessions, Tom challenged a pupil from each year group to a keepy uppy challenge! Ajay (year 7), Jack (year 8) and Will (year 10) were superb in the competition and managed to beat Tom - despite his semi-professional past and Soccer Aid 2021 experience.
Swarzy ended each session with a student Q&A, which the students really enjoyed as it allowed them to ask Tom some hard-hitting questions, such as who inspired him, the process of writing and producing music, his favourite aspects of being a musician, and of course the most important question: what's better, apple juice or orange juice?
Summer Turner, Head of Jane Austen College, said: "we were delighted to welcome Swarzy Macaly, Tom Grennan and the BBC team to Jane Austen College as part of the BBC Centenary tour. We're a school which prides itself on our love of stories, and shares the views echoed by the BBC guests that stories have the power to change lives. It was particularly important to hear from Tom who is so open about his struggles with his mental health and was able to share how talking to others and writing have helped him to navigate difficult times. Jane Austen College is focused on developing the knowledge and character needed to lead great lives, and today was a wonderful addition to our character curriculum."
Thank you to everyone involved in this event: BBC Bitesize, Swarzy Macaly, Tom Grennan and the BBC team who made the sessions possible.