It's Greased Lightnin'!
Back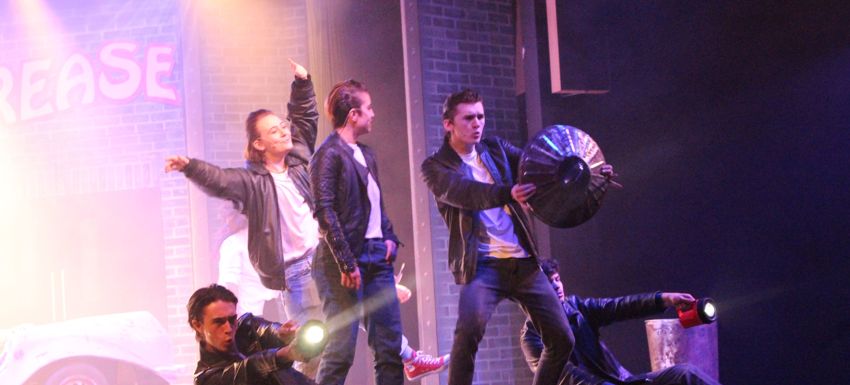 March 3rd 2022
Staged over three nights in February at the Walter Roy Theatre, Hewett Academy, Jane Austen College & Sir Isaac Newton Sixth Form put on an amazing performance of Grease. Not only was it the first production since 2019, it was also the first ever collaboration between three different schools, making it a performance to remember!
The production was founded by a grant from Bluespark Foundation and £1500 sponsorship from local businesses; Jones Financial, Leathes Prior, and Adrian Flux, allowing the show to have professional staging from Scenic Productions, a great sound system (Viking Stage Lighting) and West-End-worthy costumes!
Students involved in Grease was given a taste of what it's like to perform in a professional production, through the audition, rehearsal and performance process, making it a real student effort and production as they were also involved in the 'behind the scenes' aspect - managing the stage, costumes and helping with hair and make-up.
Carmel Hannant, Teacher of Performing Arts at Jane Austen College said: " We are so proud of our students, every single one of them shone upon the Walter Roy stage. The audience were astounded by the talent of our students on the stage."
We are so proud of the students and the work they put in. The performances were amazing and a real testament to the work both the students and staff put into the production!
Executive Principal Antony Little said: "Drama productions are back big time at the Walter Roy Theatre and it is clear that audiences enjoyed this every bit as much as the cast did! Grease is such a brilliant musical and the familiar songs, classic storyline and warm characters were such a good way of bringing back the familiar roar of the theatre. This has been so important for young people, who have made so many sacrifices in the last 2 years. The hard work and determination of the cast, the crew, musicians and directors has been inspiring. I wanted to particularly thank the staff from all three schools who have put their heart and soul into Grease. And, of course, the plaudits go to the brilliant cast who have made us all so proud with their performance!"
Huge thank you to all of the local businesses that sponsored this production!