Excellent A-Level Results achieved at Jane Austen College
Back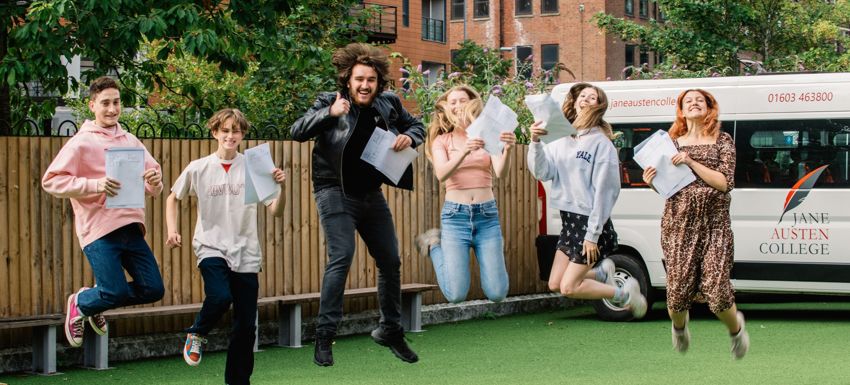 August 11th 2021
Jane Austen College sixth form students have again achieved excellent A-Level results.
A total of 87 students collected their grades at Jane Austen College sixth form achieving 84% of A-Level grades A*- C with 61% of grades A - B and 35% grades A* - A.
Since opening in September 2014, Jane Austen College has established itself as one of the city's most popular and top-performing schools. This academic success is evident today, with their students great results and many students preparing to take up places at Russell Group Universities.
Executive Principal, Antony Little and Head of School, Summer Turner said:

"We are incredibly proud of our Year 13 students for excelling in their A-Level results this summer. Whether in the physical or the virtual classroom, the Jane Austen College Year 13s have demonstrated great dedication, maturity and passion for their studies. Alongside this, they have developed a strength of character which will allow them to lead a flourishing life. Their success is also a testament to the hard work of our staff and the immense support of our families.

"We are proud that our students are going on to study at some of the best Universities in the country, from SOAS to St Andrews to our very own UEA. We anticipate bright futures for them and look forward to seeing how they will make their mark on the world."
A special congratulations to these students:
Connie Blaney Achieved an A* in English Language, an A* in Psychology and a A* in Sociology and is going on to the University of East Anglia to study Psychology. Connie was overjoyed and remarked 'I'm just so happy, I don't really have any other words for it.'

Molly Payne Achieved an A* in Drama and an A in English Literature and an A in History. Molly is off to the University of York to study Theatre and said this morning. 'I'm so happy, I was really happy getting into uni this morning, but to then get these amazing grades is just the Icing on the cake. I'm so pleased.'